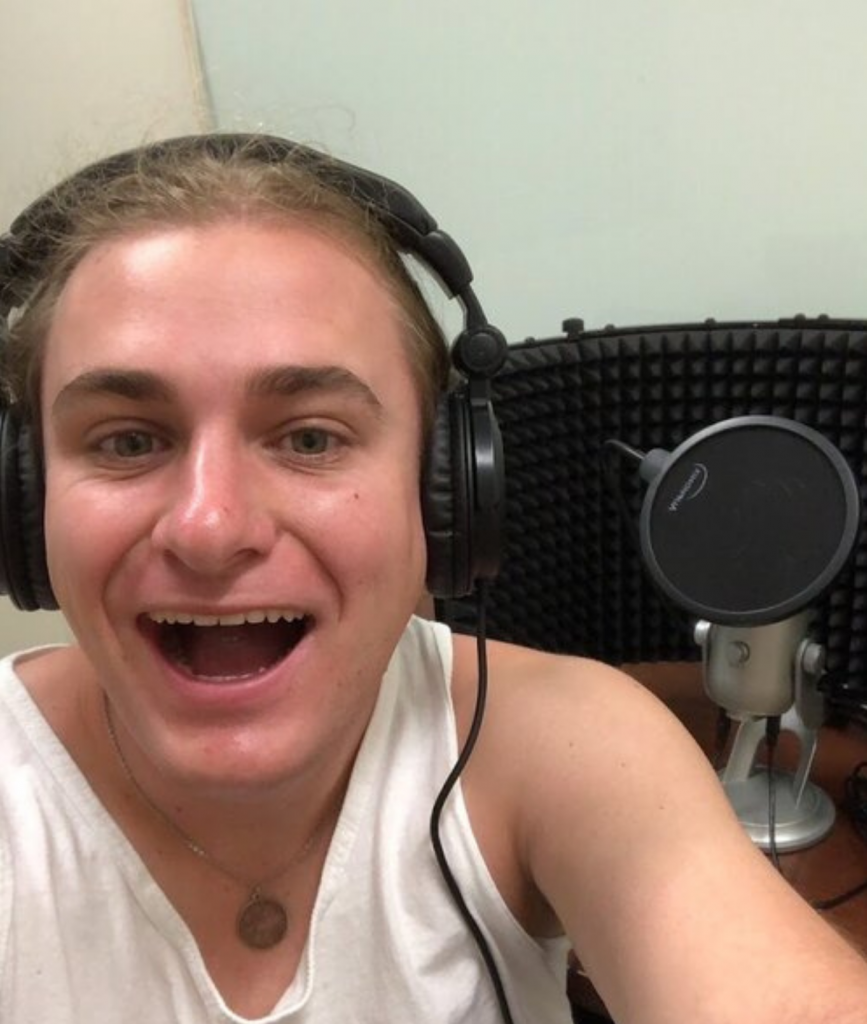 Brienne Hayes is a non-binary literary and queer student of Digital Humanities. They exemplify how DH@SDSU successfully serves and supports SDSU students, preparing them for the future with skills, knowledge, and human connections. "I was doing a lot of this tech work, thinking I was going to be a software engineer or a data scientist and it just never really clicked for me," Brienne Hayes remarks as they slightly swivel in their computer chair. Their thought finishes, "and then I took Digital Literature [with Jessica Pressman] last semester, and that's what sealed the deal." Brienne adjusted career goals from Software Engineering to Digital Humanities.
They graduated in Spring 2020 with a major in Applied Mathematics and minor in English. They note, "I came to mathematics originally with a desire for clarity… I found the meaning in literature." In Brienne's work and scholarship, they like to emphasize the importance of subjectivity, as well as the importance of cultural perspective. Brienne locks eyes with the webcam, "I think that is something we are really missing as a culture, I think we have invested way too much overconfidence in technology…" 
Brienne's passion for exploring the subjective in assumed objective cases has become more apparent in the projects they've most recently been involved with: COVID Tracking Project and Rise Up Story Teams (RUST). The COVID Tracking Project is associated with the Atlantic where communities come together to help track the diffusion of Coronavirus 2019 across the nation. This huge volunteer network has streamlined collecting and recording accurate statistics regarding the pandemic. Brienne works with the COVID racial data tracker, preparing data visualizations. Brienne notes, "Race plays a huge part in COVID, and racial minority communities are disproportionately affected, for a number of reasons, by the virus." Challenges include the lack of uniformity in regards to how states record racial data.
Brienne was recruited by RUST through DH Librarian, Dr. Pamella Lach, two weeks before the election. Dr. Lach's connections allowed Brienne networking opportunities, they remark, "In about two hours, I am on Zoom with Laura Nix who is an Oscar Nominated Documentarian who took charge of this whole project." Their goal was to share peaceful protest footage with media organizations; footage that was filmed by crowdsourced videographers and journalists, in which Brienne assisted with the technical aspect.
As we near the end of the interview, Brienne offers two pieces of advice for intellectuals coming from a humanities perspective and scholars coming from a science background. As Brienne pulls out a slim brown book from their bookshelf, they begin to quote Ian Bogost, "…the fragility of computers and smartphones have made us all fear them." Brienne mentions from their experience that people who are not the most comfortable with computers usually feel that way because of their lack of understanding and they're afraid that that will lead them to break something. Brienne's voice raises an octave, "…get in there and break stuff, that's how you learn." Brienne adds the caveat to be careful about not exposing your passwords and your personal information to anybody on the internet while experimenting. For scholars coming from a science background, Brienne concludes, "You need to keep the human side of what you're doing in perspective. Sciences alone are not enough to grab a useful understanding of the world." Technical practice should be coupled with a social grounding.
Brienne believes academics, intellectuals and people that care about the world should know how to use these tools, work with data, and present data for their own purposes. Brienne remarks, "At the same time data science is a field that is extremely easy to get into and extremely easy to abuse."
In Spring 2021, Brienne will be teaching a two-part virtual workshop for DH@SDSU called Ethical Data Science. The workshop will cover how easy it is for machine learning models to be abused, misrepresent information, and create faulty predictions. This is not the only thing we have to look forward to in terms of Brienne. Brienne is working on a detox video project, wrapping up a novel on artificial intelligence and ethics, grad school applications and has teamed up with a former MFA in English and DH Programs Assistant, Tina Lumbis, on a project that deals with a new way of reading literary short fiction. DH@SDSU helps prepare SDSU students, such as Brienne, for their future with auxiliary skills, knowledge, and human connections.