The DH Initiative enthusiastically welcomes our newest DH Associate Director for Fall 2022. Dr. Sureshi Jayawardene will be working on a few major projects in the next two years. The first of which is to bring Digital Humanities to the Africana Studies, American Indian Studies, Asian American Studies, and Chicano and Chicana Studies in the College of Arts and Letters through a partnered interdisciplinary cluster between these units and the DH Center. A second project involves a summer institute for faculty working with DH projects and those interested in integrating DH technologies into their projects.
Sureshi Jayawardene, PhD.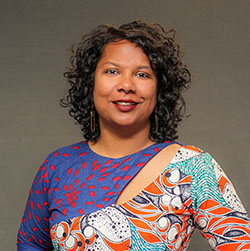 Sureshi Jayawardene is associate professor of Africana Studies. She received her Ph.D. in African American Studies from Northwestern University and now is an Africana social scientist specializing in the western Indian Ocean African diaspora and an Associate Professor of Africana studies at SDSU. Her research and teaching interests include Africana geographies and epistemologies, diaspora, memory, expressive cultures, spirituality, Africana families and kinship formations, Black digital humanities, and research methods. She is currently working on a book combining ethnography, interviews, archival research, and content analyses with theories of diaspora, Pan-Africanism, Black Geographies, and Africana aesthetics to culturally situate her investigation into conceptions of selfhood and community among people of African descent in Sri Lanka. Her publications about South Asian Africana communities have appeared in the Journal of Black Studies and the Journal of African American Studies. Jayawardene is also a co-founder and currently co-directs the Afrometrics Research Institute.