A lot of faculty are apprehensive about returning to virtual instruction in the Fall with the knowledge that all of their classes will be taught via Zoom for the entire semester (in contrast to the rapid shift to virtual last spring). One concern I've heard is about building community in a fully virtual space. Our tried-and-true methods for doing this in face-to-face classrooms (F2F) don't always translate to Zoom.
I had this same concern when contemplating whether to virtualize a weeklong summer institute for doctoral students in public digital humanities focused on podcasting. This would have been our second podcasting institute, organized in partnership with the National Humanities Center, and hosted in the Digital Humanities Center. My co-organizers and I were confident we could teach our participants to create meaningful podcasts via Zoom. Our concern was whether we could re-create the safe, trusting, nurturing environment from the previous year to encourage the sort of risk-taking we were asking of our students. After much discussion, we decided to give it a try, and were thrilled with the results.
Despite the Zoom fatigue and technical challenges of cohorts collaborating across different spaces and time zones, all seven cohorts produced incredibly moving and technically advanced podcasts (a few such examples: Shifting Intimacies under Covid and Coronavirus and the Common Good). Equally important, many students shared how transformative the week had been for them, in part made possible by the community we were able to create.
I've been reflecting a lot about how we made this work, and offer here a few thoughts, observations, and recommendations for faculty interested in creating a safe and nurturing learning community via Zoom this fall.
Prelude: Our learning environment
Unlike a F2F institute where you can pack a lot into a day, fueled by meals, snacks, and hands-on activities, we had to be mindful not to spend too much time in Zoom on any given day, and to leave enough time for cohort work. Each day was divided into a chunk of synchronous sessions in the morning with open blocks of time in the afternoon for cohort work, and a synchronous wrap-up session at the end of each day. Synchronous sessions included scholarly talks about podcasting, discussions about emergent strategies for the humanities, and technical trainings. Asynchronous portions of the day included semi-structured activities to keep the cohorts on track. As the week progressed, we decreased the number of synchronous sessions and increased the asynchronous cohort time so that we could all come back together on the last day for our listening party. We made sure to touch base with each group via Zoom every day, and we wove an icebreaker throughout the week where participants shared their favorite podcasts and reflected on what makes a good 'cast, which we used to develop a list of essential podcasting elements (see the full schedule).
While the structure of this weeklong intensive institute is vastly different from the sort of sustained learning that takes place over a sixteen-week semester, it's still important to find the balance of Zoom time and non-Zoom time for virtual instruction. And, it's important that what happens in Zoom informs the activities happening outside of class, and vice versa.
Figuring out the overall structure of the class goes hand-in-hand with creating community. Just as you structure the content and methods you are teaching, so too should you be thinking about the shape and structure of your community.
1. Define your community
Before you can create the conditions for a community, you need to think intentionally about what you want that community to look like. More than anything, we knew we needed a trusting community. We needed our 26 participants, who spanned humanities and social science disciplines across the United States, to trust us when we assured them that this would work — that they could, indeed, produce a 30-minute podcast in less than a week without any previous experience. We needed them to trust that we had scaffolded the theory and training they would need, and that we had done enough planning to guide them through the process. We needed them to trust each other to show up and do the work. And we needed them to trust themselves — to let go of any doubts and be willing to dive in.
We also needed a safe community where doctoral students could experiment with new tools and methods of knowledge production. We already knew from our F2F experience that this required us to be vulnerable with them — to admit our weaknesses, celebrate our "failures," and model process-oriented thinking.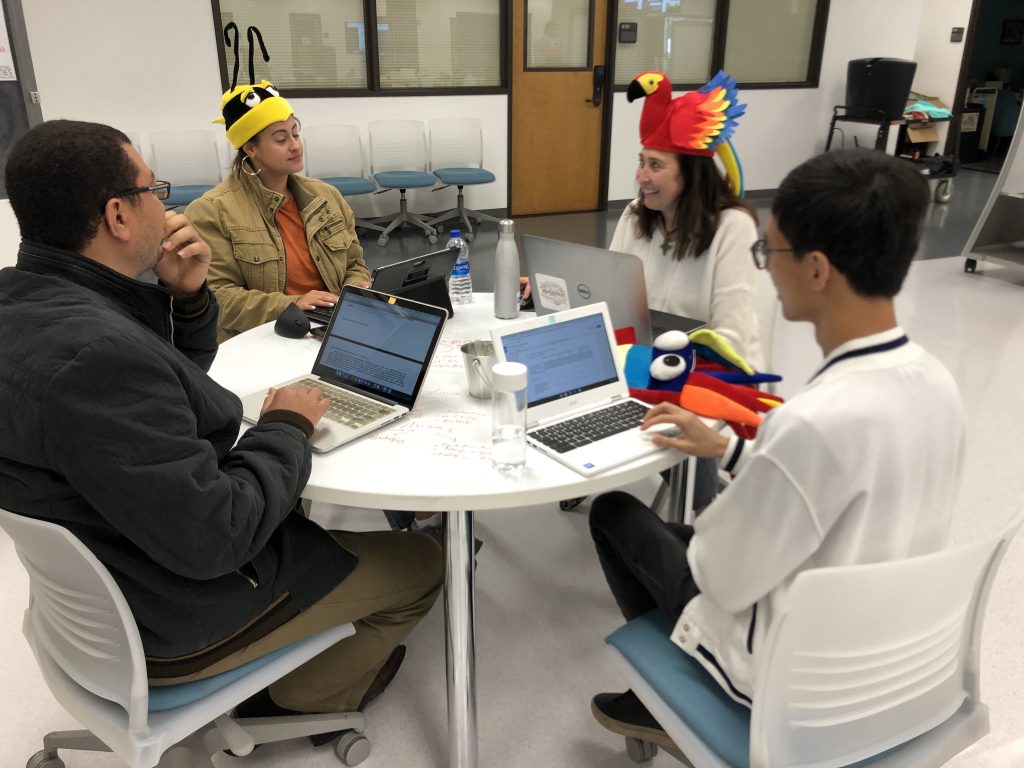 Finally, we needed a loving community where we would support each other, cheer each other on, and celebrate our collective success. Last year, we had the benefit of my collection of silly hats to break the ice and inject a sense of play into the week. Alas, my hats are still locked away in my office (and I'm locked out), so I had to think of a different way to introduce that sense of playfulness (fun images in slide decks, casual conversations about food aversions at the start of plenary sessions while people were logging in, and ample use of Zoom emojis and reactions).
The challenge here is intentionally (re)creating the spontaneous feel of genuine play, which requires forethought, without making it feel too forced and artificial (reminds me of the carefully-choreographed dances that tried to evoke a sense of bricolage in Hollywood musicals). How do you plan for spontaneous lightheartedness? Include Buzzfeed quizzes or silly Zoom polls in synchronous sessions? Inject jokes and random gifs into slide decks? Rely on your own sense of humor in the moment (tricky if you're also delivering content, monitoring chat, and making sure the class session is on track).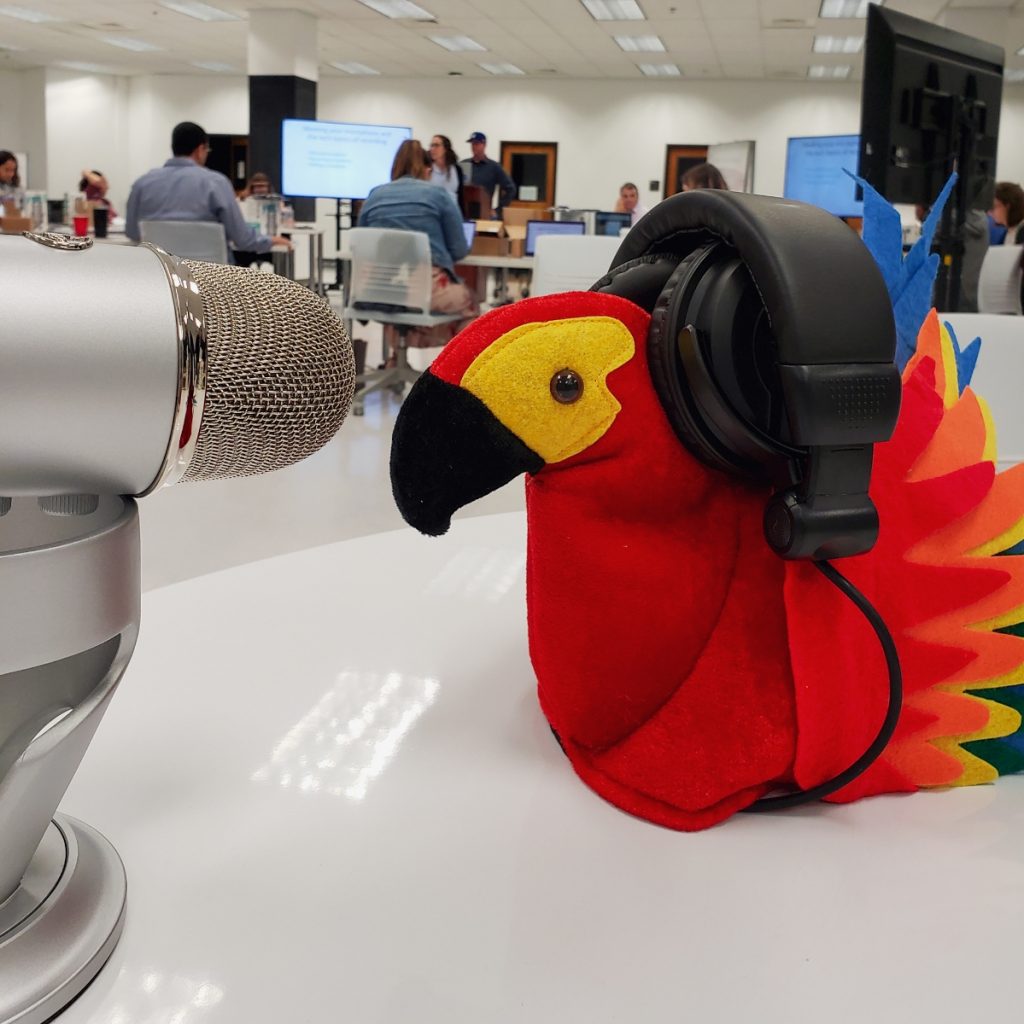 2. Articulate your hopes for community
To help define and give shape to our community, we selected a common pre-reading to set the tone for the week and provide the conceptual framework for the podcasts. adrienne maree brown's Emergent Strategy: Shaping Change, Changing Worlds (2017) proved to be an inspirational text that infused a sense of possibility in the week. We emphasized her emergent strategy principles as a way to frame our discussions and work:
Small is good, small is all. (The large is a reflection of the small.)

Change is constant. (Be like water.)

There is always enough time for the right work.

There is a conversation in the room that only these people at this moment can have. Find it.

Never a failure, always a lesson.

Trust the people. (If you trust the people they become trustworthy.)

Move at the speed of trust. Focus on critical connections more than critical mass—build resilience by building the relationships.

Less prep, more presence.

What you pay attention to grows.
This framework allowed us to better articulate our core values and intentions: trust, relationship-building, and experimentation (process more than product), while underscoring that all of our participants brought unique and valuable experiences and perspectives to the virtual table. This framework inspired our participants to take intellectual and creative risks, and support each other's experiments.
In addition to this pre-reading, we developed community agreements for the institute — a set of shared principles and values for how we wanted to engage with each other. We built on last year's agreements, which many participants said was key to creating a safe and trusting environment conducive to successful risk-taking.
This year, I augmented the agreements to address the challenges of collaborating via Zoom:
We recognize that connecting and collaborating virtually is challenging, between Zoom fatigue and the distractions of email and life. During our time together, we commit to the following additional shared principles:
We will strive to be as present as possible during synchronous sessions, while giving ourselves permission to stretch and take breaks for our own well-being.
We will give ourselves permission to shut out the world during this institute and we will give ourselves permission to stay present in the world around us.
We will try to turn our cameras on as much as possible, but recognize that there are times when we will need to turn them off.
We will respect the privacy of our colleagues and peers.
We will engage in kind, generative, and compassionate chat speech and avoid using biased or harassing chat.
We will avoid posting screenshots of Zoom sessions, Zoom chats, or Slack chats on social media.
My intention was to acknowledge that learning over Zoom is hard — it requires more focus and intentionality than F2F, but it's also more tiring. I was trying to strike a balance between asking (not requiring) sustained engagement and self-care. While the institute was not credit-bearing, our participants received stipends from their home institutions to participate, so I wanted to make sure there was some amount of accountability, but also to call out the toll of virtual learning. I also wanted to prevent harmful chat speech, but wanted to frame it positively (kind, generative, and compassionate speech) rather than negative (so avoiding the use of "hate speech").
3. Set expectations
We shipped the shared reading to participants about three weeks before the institute and encouraged them to read as much as they could before the first day. We explained our reasoning: that we would be using emergent strategy as our conceptual compass for the week. Even if students only skimmed the book, they would have come to the first session with an inkling of what to expect during our time together.
In addition to the pre-reading, I sent several emails in advance of the first day asking participants to review the community agreements in our course website, again to set expectations in advance. We reinforced the importance of these community values by reviewing/briefly discussing the agreements at the introductory plenary session, which helped set the tone for the week. Should a problem have arisen during the institute, I was prepared to revisit the community agreements with the entire group in one of our daily synchronous sessions and/or via Slack (more about that in #4).
From day 1, I observed chat speech that was positive, affirming, and supportive. It was also deeply engaging — during plenary presentations participants exchanged rich and robust conversation via chat, in addition to asking questions and participating in group discussion via video and microphone.
4. Establish multiple channels and communication practices
It's important to create multiple pathways for generative communication for your learning community. Our course website was static, so unlike a learning management system (Blackboard/Canvas), I couldn't rely on it for sustained or asynchronous conversation. Having participants span multiple time zones further complicated our options. Of course, we could — and did — rely on Zoom chat for synchronous sessions (and I saved many of the chat sessions), but this only covered about half of our time together.
Ultimately, we decided to create a Slack workspace for the institute. I find Slack a little overwhelming (information overload), but ideally suited for a small group of users working on a specific and bounded project. So it was pretty ideal for us. Once I got everyone into the space, I noticed folks immediately began introducing themselves with brief hello messages. I responded to each one with a little emoji to signal a welcoming environment, and several of us began talking to each other in message threads, to share ideas and resources related to the pre-reading.
Since the students would be working in cohorts of 3-4, I created cohort Slack channels to facilitate their group work. Because I created it, I was automatically a member of each channel and could easily "lurk" (I let them know I could see their conversations), though one cohort created their own private channel and did not add me to it. These smaller channels enabled the groups to get to know each other better, as well as share the audio files they were creating/editing. It also allowed me to keep an eye on each cohort, make sure they were ok, check in with them periodically, and cheer them on. I also created a channel for dedicated tech issues, which we used to share workarounds and tag the tech support team for additional help.
All cohorts used their group channels throughout the week (I actually didn't expect everyone to buy-in that readily), and in many cases, their informal chat enhanced the overall sense of camaraderie so necessary to the community. They also set up their own group Zooms, or used the breakout rooms that I created for them in the main Zoom space, to facilitate their conversations. And they invited me to pop into their group meetings, which I did as much as possible, while trying to be mindful not to take up too much of their time.
A note about breakout rooms in Zoom
This is such a handy feature of Zoom (especially for virtual trivia and game nights!). They help break the ice for students who feel intimidated speaking to the entire Zoom class. But as the instructor, using breakout rooms requires some pre-planning. Will students be assigned randomly to rooms and will those room assignments shift over time, or will students work in the same groups all semester (if the latter, consider enabling the "Allow host to assign participants to breakout rooms when scheduling" setting IF you know the groupings in advance)? How will you make sure that you visit each breakout room in a given session or semester? How will you hold students accountable for what happens in the breakout room — will they report out to the entire class? Add notes to a shared google doc? Fill out a Zoom poll? How will you communicate with students in their breakout rooms? (While the host can broadcast a message to all rooms, there is no way for those in the rooms to respond, short of leaving their breakout room and returning to the main meeting or calling the host for help.) As with everything we do, it's helpful to think about why you want to use a breakout room — what pedagogic goal does it accomplish for a specific class session or for the overall course?
Using breakout rooms for our institute was helpful for cohort work, but challenging for me to facilitate. I created a dedicated breakout room for each cohort at the first Zoom session. As we wrapped up the synchronous session on that first day, all of the teams opted to enter into their breakout room for a quick chat before dispersing to engage asynchronously. This enabled me to jump into each breakout room and make sure everyone was on the right track. But it also meant that I had to keep the Zoom session running until all the groups were done. Most groups wanted to set up their own Zoom meetings for cohort work throughout the week, and they shared their meeting links with me so that I could touch base with them (usually at a pre-arranged time). But several groups preferred using the original Zoom room I had created for them. As a result, I had to keep the Zoom running the entire week (something we had hoped to avoid), making sure that if someone accidentally got disconnected I would be available to let them back into their room. It also meant that I had to use a second computer to go into other Zoom meetings. Being in two Zooms at the same time is disorientating. For SDSU faculty who want to encourage students to engage in group work outside of synchronous class times, make sure that they use their own Zoom accounts, but that they share the meeting link with you. I'd recommend that you schedule a check-in time (or more) with groups in their Zoom rooms.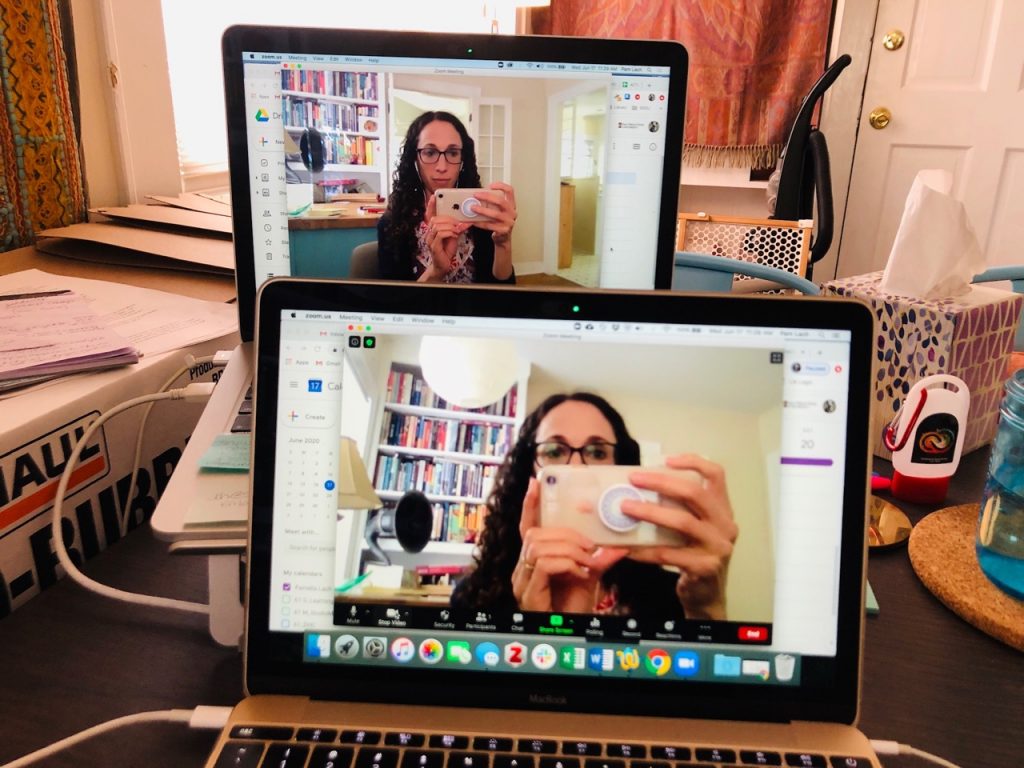 Ultimately, I think the key to successfully using Zoom breakout rooms is — as with everything in the classroom — establishing clear guidelines and expectations for what students should be doing. We developed a weeklong group worksheet to guide students through their cohort activities — a set of discussion questions, goals for each day, etc. We asked students to report back at the end of each day with quick updates about what they had accomplished. This can be challenging if you're teaching a large class.
5. Model the community you want to cultivate
I always strive to model the values that drive my work and my community. This virtual institute was no different. Whether through Zoom chat, slack messages, and the (over)use of emojis and gifs, I worked to intentionally embody our community values. So much of what I do as the DH Librarian and a project manager is to help folks get across the finish line — whether it's giving them the skills and training they need, troubleshooting tech issues, providing input on a sound clip, or just cheering them on.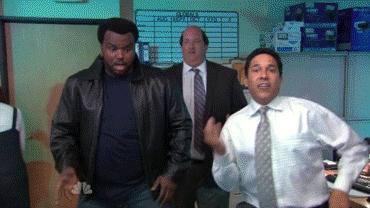 This requires a lot of energy and the right tone–hard things to achieve with Zoom fatigue. I made sure to take breaks, too, and tune out the rest of the world as much as possible to be fully present while giving myself permission to tend to other matters at points throughout the week. At times, I turned off my camera during synchronous sessions (our community agreements allowed for this) so that I could get up, stretch, get a snack, or close my eyes. Even while running the Zoom all day, I made sure to step away from my computer at regular intervals. And, we built in downtime between back-to-back synchronous sessions to allow for food and bathroom breaks. I can't underscore enough the importance of intentionally carving out time for breaks and explicitly including those break times in your class schedule (I wish we had been even more intentional about this when we crafted our schedule).
6. Keep building your community
As with F2F classes, building community is an ongoing, never-ending process. It requires constant attention and care. How you set up the learning community at the beginning matters. But creating community isn't something we do in the first few meeting sessions and then abandon when we dive into the "meat" of the class. The shared agreements and values articulated at the beginning of the course must be integrated into the entire curriculum — the readings, the discussion topics, the learning activities. It's yet another building block of the learning that you want to happen.
Our shared reading on emergent strategies spoke directly to our intentions for the community and our curricular goals for the week. By design, we returned again and again to these emergent principles, both in synchronous sessions and in the themes the participants explored in their podcasts. This enabled us to reinforce, remind, and model the kind of community we were trying to create. Had we needed to call out behavior that was harmful to our community, we would have used Emergent Strategies as a starting point for such a conversation.
In the end, I was amazed at the work each of our participants did that week. Everyone took a huge leap of faith and trusted in themselves, each other, and the organizers that they would land on their feet. Yes, I would have preferred to have engaged with the community in the DH Center — to share meals and laughter and be able to read each other's nonverbal cues better. Perhaps something was lost over Zoom — certainly it was harder for everyone to get to know each other (though we had twice the number of participants as the previous year, so that might have been a challenge F2F too).
But there were some unexpected benefits too — the side conversations in Zoom chats, the sharing of links and resources, the recording of sessions for future reference — that offset the losses. Ultimately, I'd encourage folks to try to embrace and amplify those affordances. Pandemic teaching is so much like the digital humanities — do the best you can with what you've got. And if you get stuck, reach out for help (seriously, you can email me anytime!).
Dr. Pamella Lach is the Digital Humanities Librarian at San Diego State University. She is Director of the Digital Humanities Center at SDSU Library and Co-Directs the DH@SDSU Initiative. Learn more about the Initiative's work to support virtual instruction during the pandemic. Email her at plach AT sdsu DOT edu.